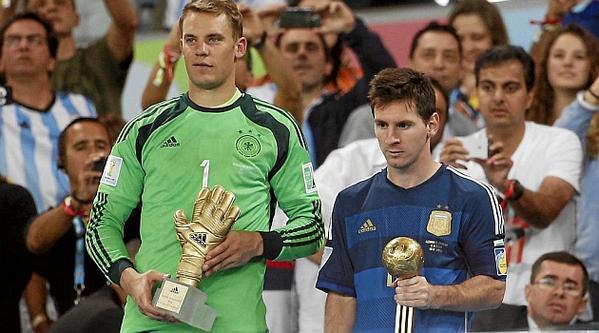 telSUR (Oct. 30) – At press conference in Russia Wednesday, FIFA president, Sepp Blatter said that Lionel Messi did not deserve the Golden Ball award for best player in the 2014 World Cup in Brazil.
"I think the decision to give Messi the Golden Ball was incorrect," said Blatter. "I was surprised when I received the committee's decision. They told me they had only looked at 10 of the players who took part in the final."
In the past, Blatter expressed that the Golden Ball should have been given to German goalkeeper Manuel Neuer, who won the World Cup's Golden Glove for the best goalkeeper.
"Right now I don't care about the prize," said the Argentina forward to AS, back in July.
When Messi's award was announced, minutes after Argentina lost the final against Germany, some suggested that the facial expression of the Barcelona suggested he was surprised.
Back in July, Diego Maradona also expressed his surprise at the announcement in an interview with teleSUR.
"Messi? I would give him heaven if possible. But it's not right when someone wins something that he shouldn't have won just because of some marketing plan," said the former Argentinian superstar.
Maradona's alluding to a marketting plan likely refers to the Adidas logo engraved on the Golden Ball. Adidas is one of Messi's main sponsors.